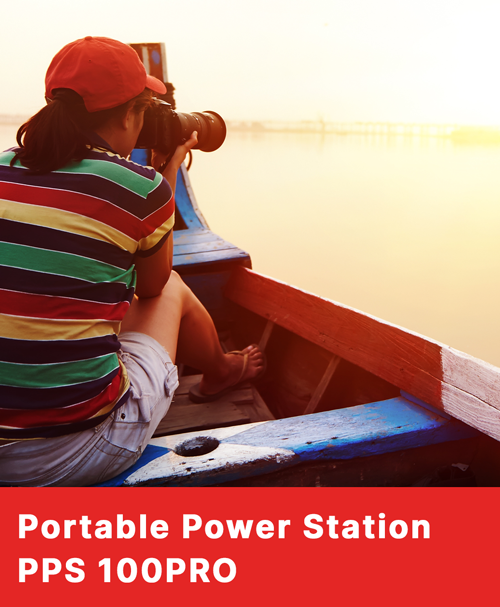 Your ultra-small and super-light mobile power outlet!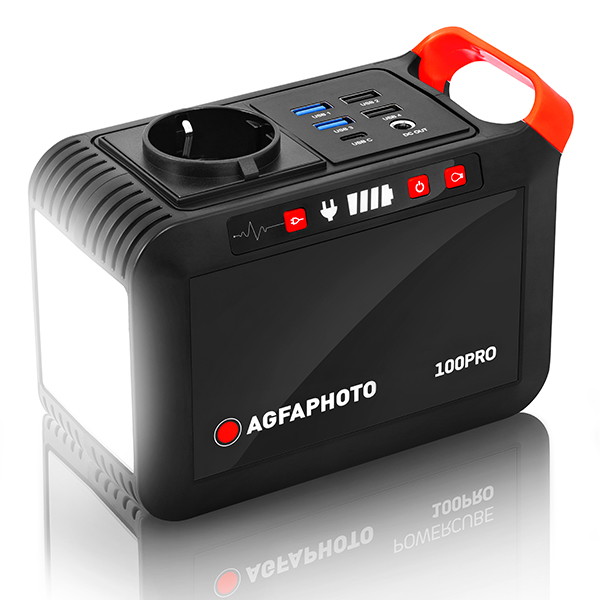 The super light and compact power station AgfaPhoto PPS100 PRO has a battery capacity of 88.8Wh and an output power of 80 watts (120W max.).
The PPS 100PRO is specially designed for mobile powering of smaller electrical devices such as smartphones, tablets, action cams, drones and laptops.
Read more
Via 4 USB ports, a Type-C output, a DC port and an AC outlet output, up to seven devices can be charged simultaneously.
The portable mini power station has three charging modes and can be charged via the wall socket, the 12VA socket in the car or by solar power via the AgfaPhoto solar panel SP 21.
The PPS 100PRO convinces with its unlimited mobility. With a weight of only 1.05kg and compact dimensions of 16 x 8 x 12 cm, it is the ideal mobile power supply for travel, festivals, camping, swimming pool, beach and the city park.
With a capacity of 88.8Wh, the PPS 100PRO meets the UN 38.3 test required by the International Air Transport Association (IATA) and is therefore allowed to be carried in hand luggage on air travel. Nevertheless, you should check with your airline beforehand to be on the safe side.
The battery management system of this mini power generator offers a comprehensive safety package with overheating protection, short circuit protection, overcurrent protection and overcharge protection.
Unrestricted mobility!
Weight: only 1.04 kg
Extremely small housing: only 16x8x12 cm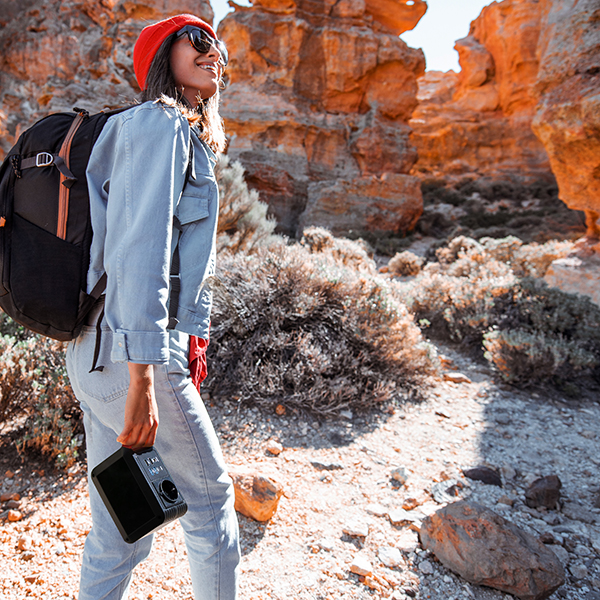 Versatile use!
Seven charging outputs for simultaneous charging of your electronic devices like cameras, drones and smartphones.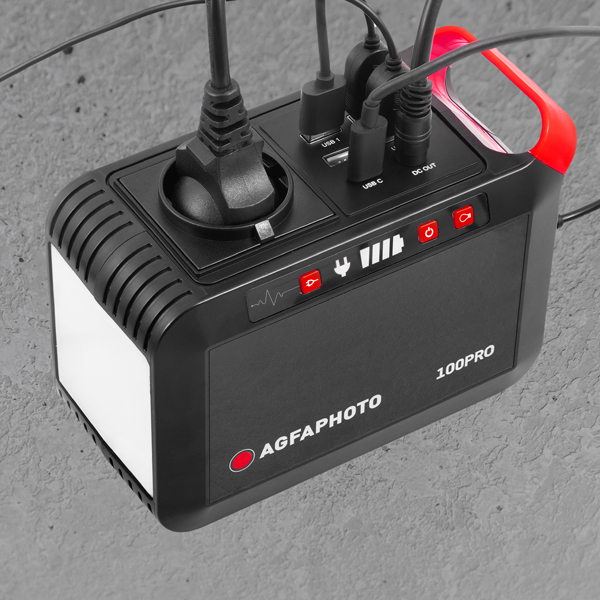 Flexible charging options!
The ultra-mobile power station can be charged flexibly and easily via 3 charging modes.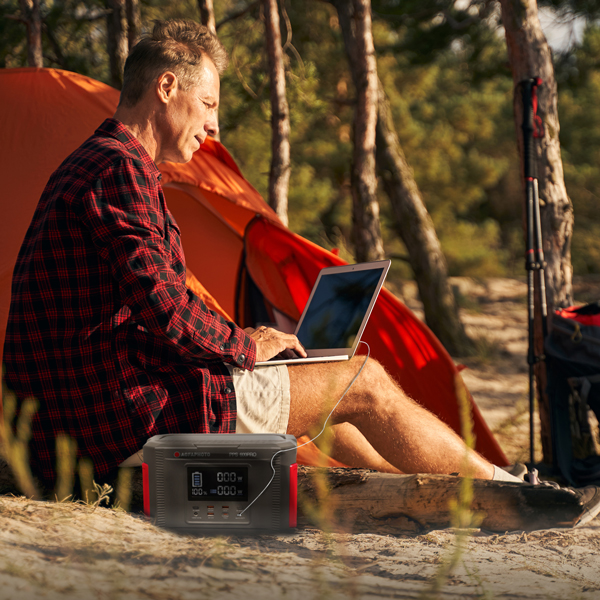 More power for your devices
Usage- and charging times*

Handy (5,5 W)
ca. 16x aufladen

Tablet (33 W)
ca. 2,5x aufladen

Mini Fridge (70 W)
ca. 1h betreiben

LED-TV (40 W)
ca. 2h betreiben

Drone (68 W)
ca. 1x aufladen

LED Lamp (5 W)
ca. 17,5h betreiben

Laptop (60 W)
ca. 1h betreiben

Floodlight (50 W)
ca. 1,5h betreiben
*Reference value. The times may vary depending on the connected product and power consumption.
Specifications
Battery
Power
80W continuous | 120W peak
Capacity
88.8 Wh | 24.000 mAh / 3.7 V
Battery type
lithium-ion
Lifetime
> 500
Input/Output
Input
1x 3.5 mm DC35135 15~24 V, 1.2 A max.
Output #1
2x USB 5 V, 2.4 A (Total 4.8 A max.)
Output #2
2x USB 5-12 V, 2 A (Total 5 V, 3.4 A, 18 W max.) | QC 3.0
Output #3
1x Type-C 5 V, 3 A / 9 V, 2 A / 12 V, 1.5 A (PD 3.0 18 W max.)
Output #4
1x 5.5 mm DC5521 12-16.8 V, 10 A (13 A max.)
Output #5
1x AC 230 V / 50 Hz 80 W (120 W max.)
Modified sine wave
General information
Special functions
1x LED flashlight (lamp, flashing, SOS)
Net. Weight
1,04 kg (2.29 lbs)
Working temperatures
-10°C - +40°C (14°F - 104°F)
Dimensions (LxWxH)
165 x 80 x 117 mm (6.49 x 3.14 x 4.60 inch)
More AgfaPhoto Power Stations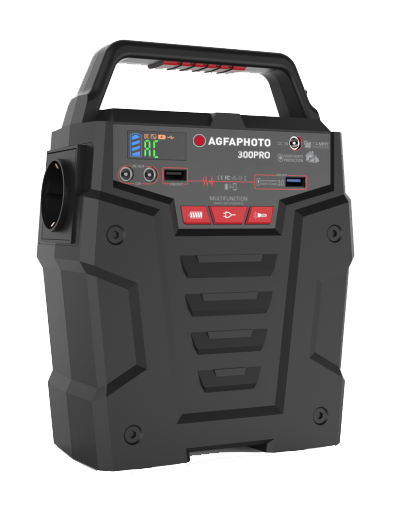 The AgfaPhoto Powerstation PPS 300PRO impresses with high power values (278Wh, 100W continuous) with extreme handiness and a weight of only 2.2 kg.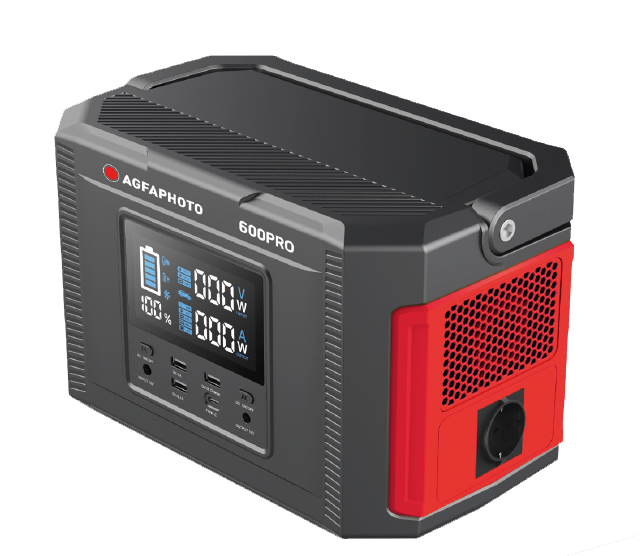 The AgfaPhoto Powerstation PPS 600PRO has a capacity of 644Wh and a power of 650W (max 1000W).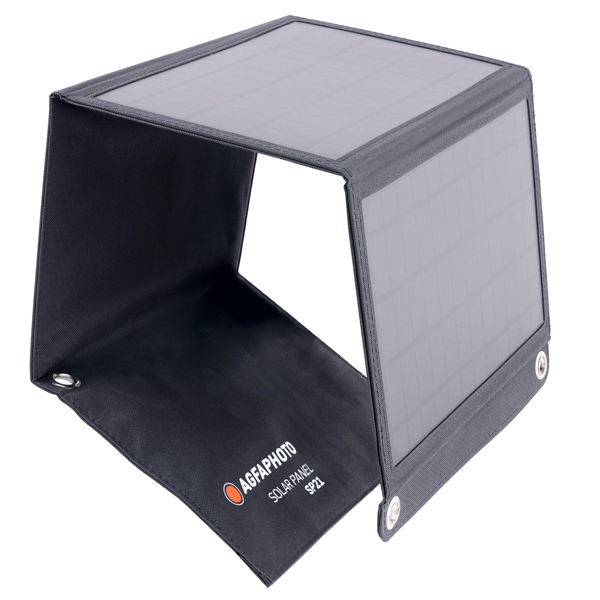 The AgfaPhoto Solar Panel SP 21 has 21W output power and charges your smartphone or tablet directly with clean solar power.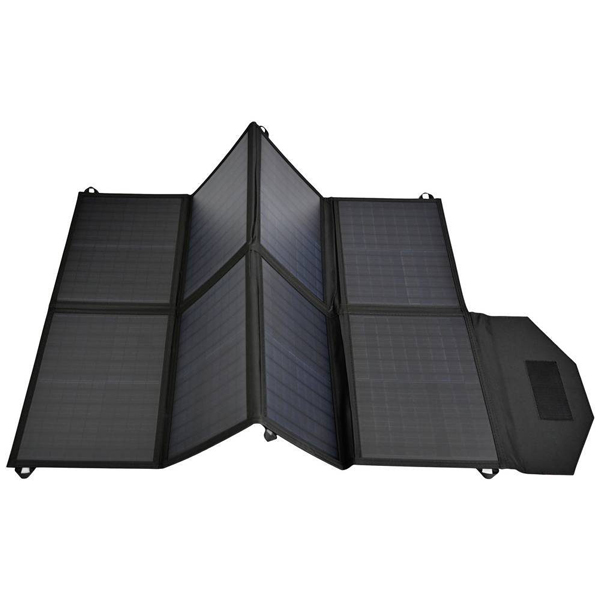 The AgfaPhoto Solar Panel SP 120 has 120W output power and charges your smartphone or tablet directly with clean solar power.
Photo: Adobe Stock 51229996