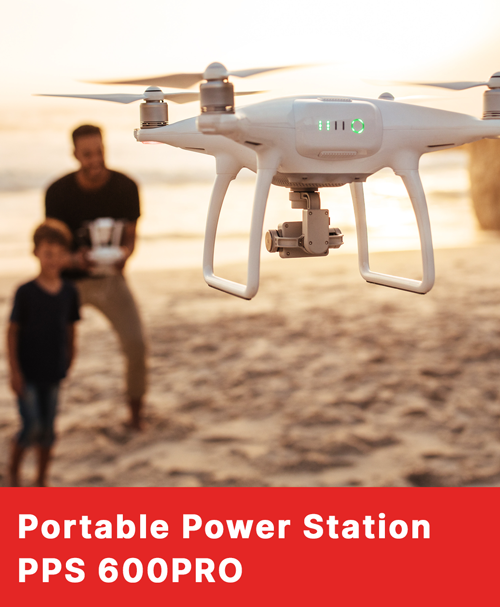 Smaller than most coolers!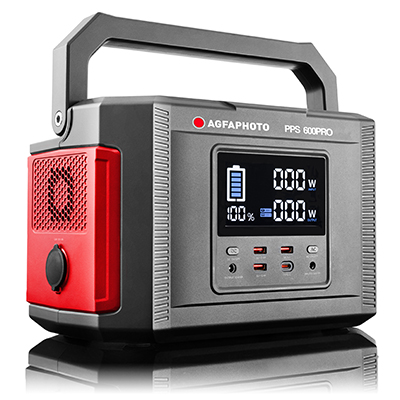 The AgfaPhoto Powerstation PPS 600PRO has a capacity of 644Wh and 650W (max 1,000W) power.
Due to its small size with decent performance values, it is the ideal power supply for camping, caravans, motor homes, hunting lodges, boats or as an emergency generator at home.
Read more
Thanks to a total of seven charging ports, you can charge your electrical devices such as laptop, mini-fridge, e-grill, camera, drone or LED TV self-sufficiently anywhere – and simultaneously if required.
Via three charging modes, the Power Station can be supplied with power almost anywhere: whether at home via the wall socket, the 12V connection in the car or the AgfaPhoto Solar Panel SP 120.
The BMS (battery management system) of this solar generator is equipped with numerous safety features such as overheating protection, short circuit protection, overcurrent protection and overcharge protection. The state of charge can be easily and reliably read via the integrated control panel.
The ideal power supply for campers and caravans!
Smaller than most coolers and that with a capacity of 644Wh and a power of 650W.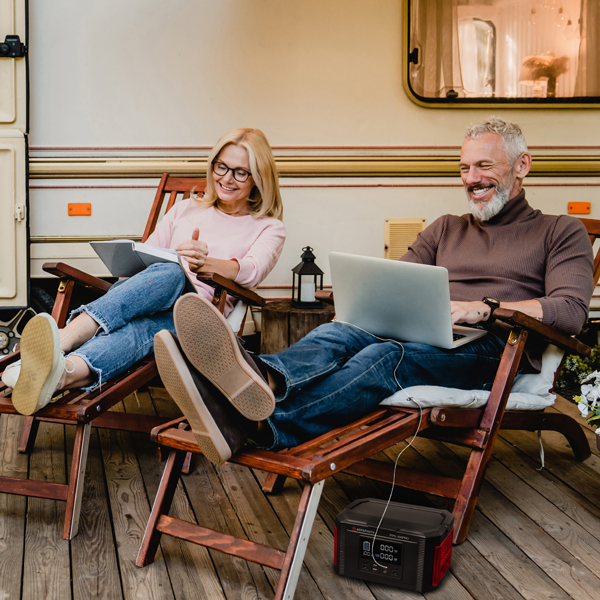 Charge almost all of your devices on the go!
With seven charging outputs, you can charge video equipment, computers or mini fridges wherever you are.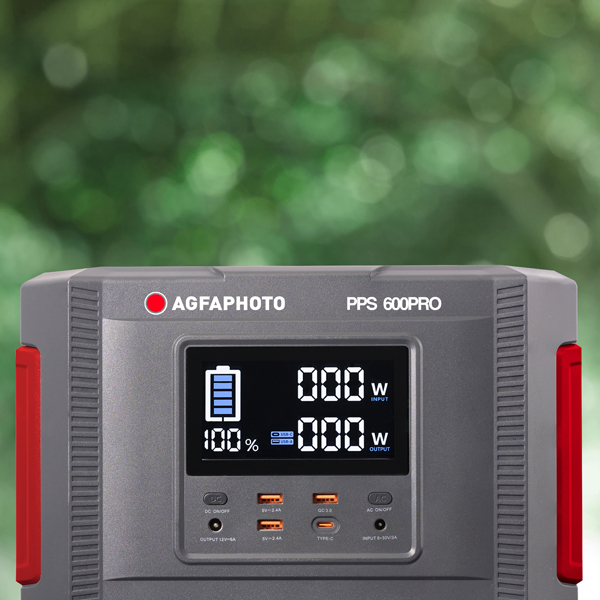 Three charging modes!
Whether at home, in the car or outdoors with a solar panel – you can charge the PPS 600PRO flexibly at any location.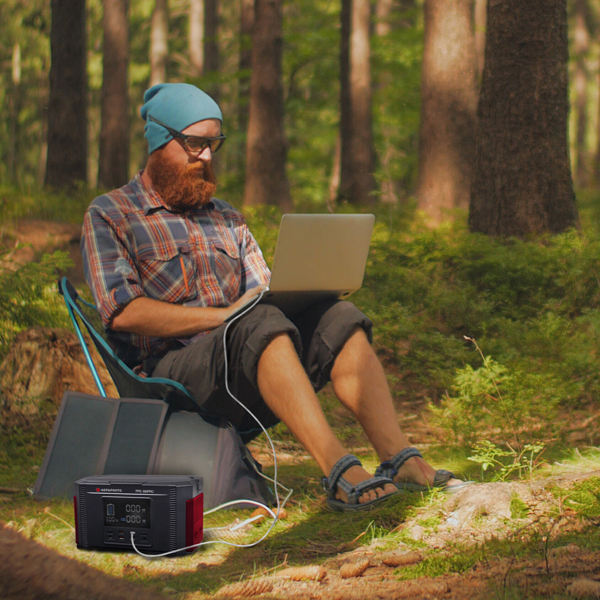 More power for your devices
Usage- and charging times*

Handy (5,5 W)
ca. 117x aufladen

Tablet (33 W)
ca. 19,5x aufladen

Mini Fridge (70 W)
ca. 9h betreiben

LED-TV (40 W)
ca. 16h betreiben

Drone (68 W)
ca. 9x aufladen

LED Lamp (5 W)
ca. 128,5h betreiben

Laptop (60 W)
ca. 10,5h betreiben

Floodlight (50 W)
ca. 12,5h betreiben
*Reference value. The times may vary depending on the connected product and power consumption.
Specifications
Battery
Power
650 W continuous | 1.000 W peak
Capacity
644 Wh | 34.800 mAh / 18.5 V
Battery type
Lithium-ion
Lifetime
> 500
Input/Output
Input
1x DC 5521 (power supply | auto | solar)
5-30 V, 3 A | 12-14.5 V, 6 A | 17-30 V, 3 A
Output #1
2x USB-A | 5 V, 2.4 A (Total: 4.8 A)
Output #2
1x USB-A (18 W QC3.0) | 5 V, 3 A / 9 V, 2 A / 12 V, 1.5 A
Output #3
1x USB-C (PD 3.0) | 5 V, 3 A / 9 V, 2 A / 12 V, 1.5 A
Output #4
1x Cigarette-Lighter port | 12 V, 8 A
Output #5
1x DC 6530 | 12 V, 6 A
Output #6
1x AC 230 V / 50 Hz | 500 W (1.000 W max.)
Pure sine wave
General information
Net. Weight
6,1 kg (13.5 lbs)
Working temperatures
-10°C - +40°C (14°F - 104°F)
Dimensions (LxWxH)
308 x 179 x 194 mm (12.1 x 7.1 x 7.6 inches)
More AgfaPhoto Portable Stations
Bildrechte: Adobe Stock 158463833