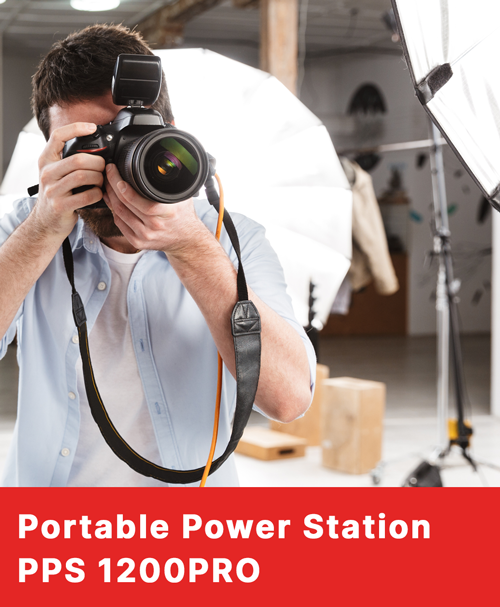 Smaller than many toolboxes!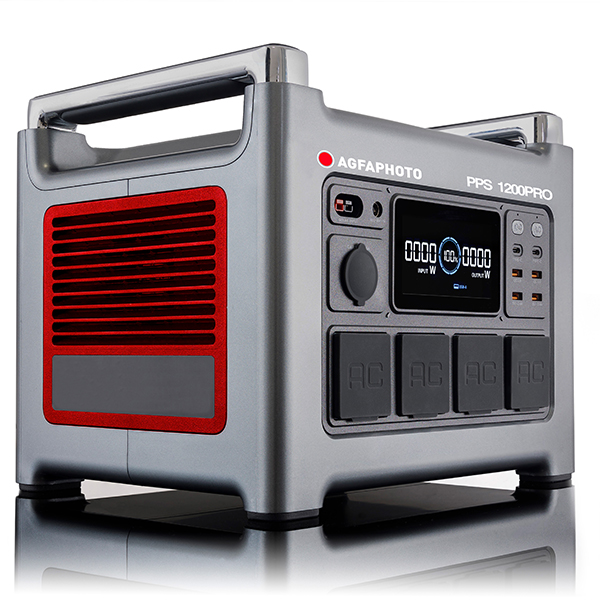 With 1,000W of continuous power and a capacity of 1,127Wh, the Powerstation PPS 1200PRO is the perfect generator replacement for outdoor shoots, events and outdoor festivals.
However, it is also ideal for self-sufficient power supply for caravans, motorhomes, hunting lodges, gazebos and boats, or as an emergency generator for the home.
Read more
Ten charging ports can be used to supply power to numerous devices such as a foto flashlight units, permanent light, laptop, LED TV, mini refrigerator or electric grill. And even for drills or jigsaws, the PPS 1200 has enough power!
The power station is solar-compatible and can be recharged via three charging modes: at home via the wall socket, the 12V connection in the car or the AgfaPhoto Solar Panel SP 120.
The PPS 1200 offers numerous safety features such as overheating protection, short-circuit protection, overcurrent protection or overcharge protection, and the integrated LED display allows the charging status to be checked quickly and easily at any time.
Your mobile power plant!
Despite 1,127Wh and an output of 1,000W, the PPS 1200 weighs just 13.5kg.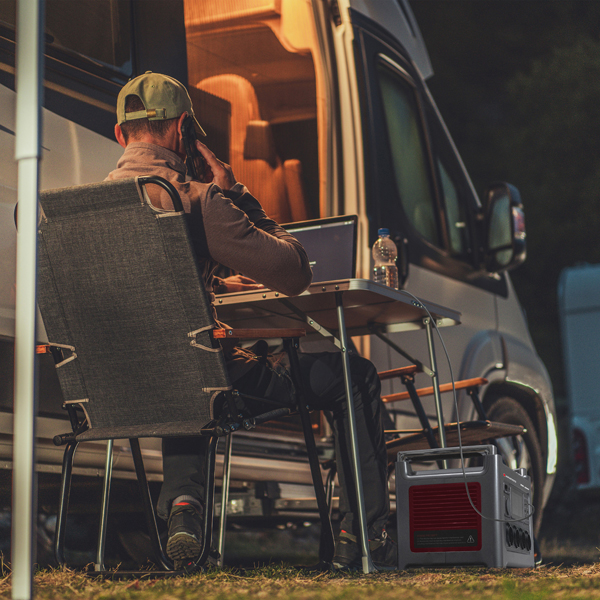 You can charge everything – no matter where!
With 10 charging ports you are always on the safe side when it comes to mobile charging of your devices!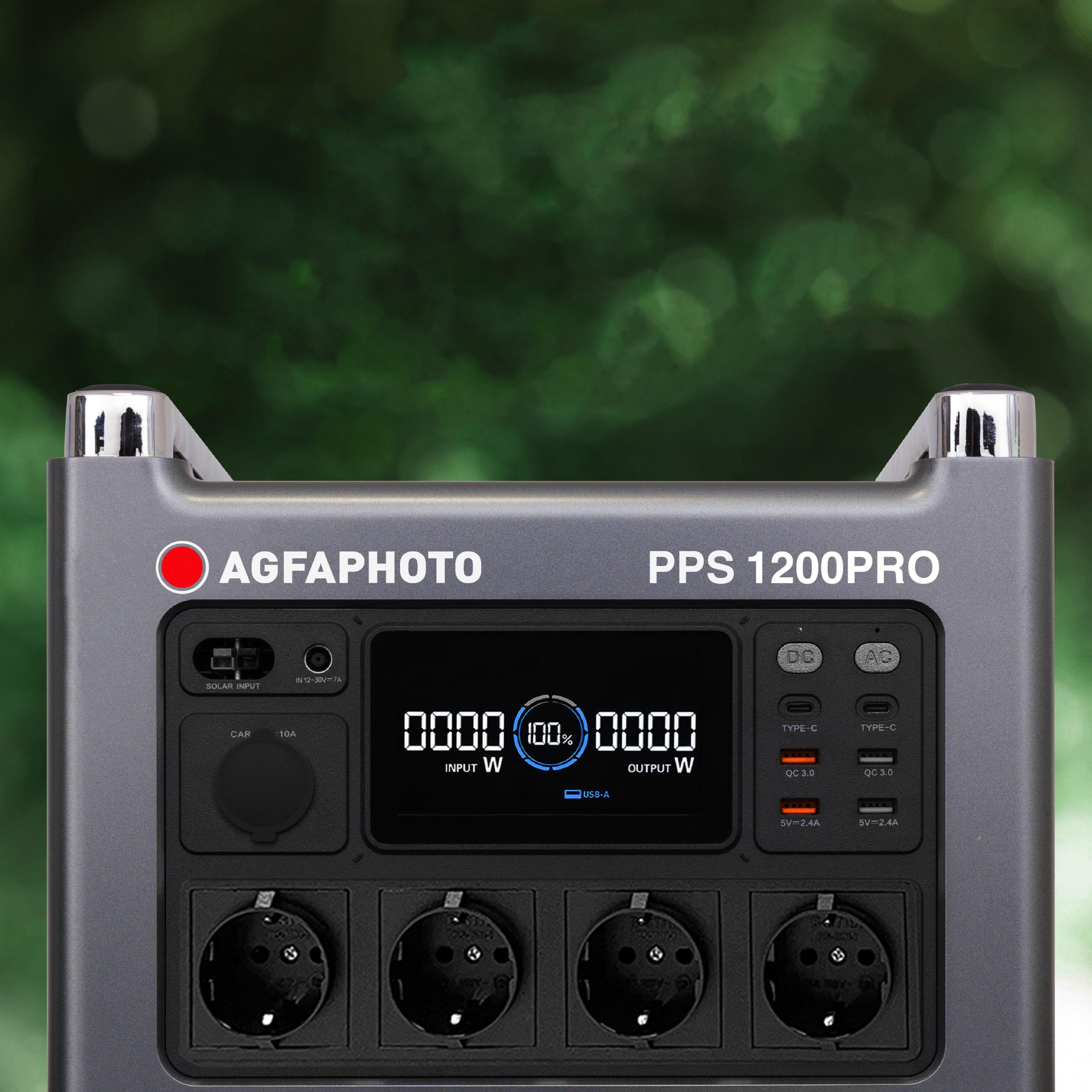 Three flexible charging options!
3 charging modes: via solar panel, power socket or car cigarette lighter.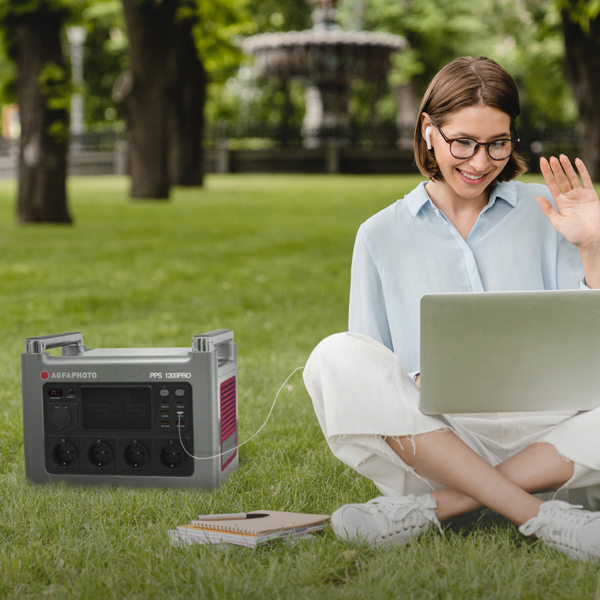 Mehr Power für Deine Geräte!
Nutzungs- und Ladezeiten*

Gaming Console (95 W)
ca. 11,5x aufladen

Tablet (33 W)
ca. 34x aufladen

Fridge (110 W)
ca. 10h betreiben

LED-TV (40 W)
ca. 28h betreiben

Drohne (68 W)
ca. 16,5x aufladen

Power drill (700 W)
ca. 1,5h betreiben

Jigsaw (500 W)
ca. 2h betreiben

Floodlight (100 W)
ca. 11h betreiben
*Referenzwert. Die Zeiten können je nach angeschlossenem Produkt und Stromverbrauch variieren.
Specifications
Battery
Power
1000 W continuous | 2000 W peak
Capacity
1.127 Wh | 52.200 mAh / 21.6 V
Battery type
Lithium-ion
Lifetime
> 500
Input/Output
Input
1x DC 5521 12-30 V, 7 A (via AC)
1x DC Anderson 18 V (200 W) (via solar)
Output #1
2x USB-A | 5 V, 2.4 A (Total: 4.8 A)
Output #2
2x USB-A (18 W QC 3.0) | 5 V, 3 A / 9 V, 2 A / 12 V, 1.5 A
Output #3
1x USB-C (PD 3.0)
5 V, 3 A / 9 V, 3 A / 12 V, 3 A / 15 V, 3 A / 20 V, 3 A
Output #4
1x cigarette lighter | 12 V, 10 A
Output #5
1x DC 6530 | 12 V, 6 A
Output #6
4x AC 230 V / 50 Hz | 1.000 W (2000 W max.)
Pure sine wave
General information
Net. Weight
13,5 kg (29.76 lbs)
Working temperatures
-10°C - +40°C (14°F - 104°F)
Dimensions (LxWxH)
328 x 252 x 272 mm (12.91 x 9.92 x 10.70 inches)
Weitere portable Energiespeicher
Bildrechte: Adobe Stock 274915015